Make an egg go through an unlikely opening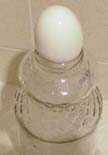 .
Ingredients:
- A peeled hard-boiled egg (extra-large size/grade egg).
- Glass bottle with a wide opening (the opening should be just a little smaller than the width of the egg). Many apple juice bottles work well for this demonstration. Also, make sure the bottle is dry.
- Matches
- An audience to show how cool this trick is.
Warning:
Adult supervision is required. This experiment involves flames.
The Recipe:

1) Place the egg on top of the bottle and show others that it will not fit through the opening.
2) Light two matches and get them burning.

3) Lift the egg from the bottle and drop the burning matches into the bottle. Immediately replace the egg.
4) The egg might jump up and down a little, but don't touch it...just watch what happens next.

---
If your browser supports it, click the buttons below to see a movie of how this demonstration is done.

Click here for an MPEG
Click here for a Quicktime Video

---
Food for Thought:
Did your egg go into the bottle?
The matches in the bottle heated the air in the bottle. Heated air expands. This hot air also had slightly greater pressure than the air outside the bottle. The bottled air pushed its way around the egg (maybe you heard or saw your egg jump up and down as the air pushed its way up and around it.)

When the air in the bottle cooled (this happens as soon as the matches go out or when the flame gets smaller), the air contracted. When this happened, the air in the bottle had slightly lower presure than the air outside the bottle. This might sound odd, but the air outside the bottle, pushed the egg in to the bottle.

PS. There was no sucking going on, only pushing by the atmosphere.